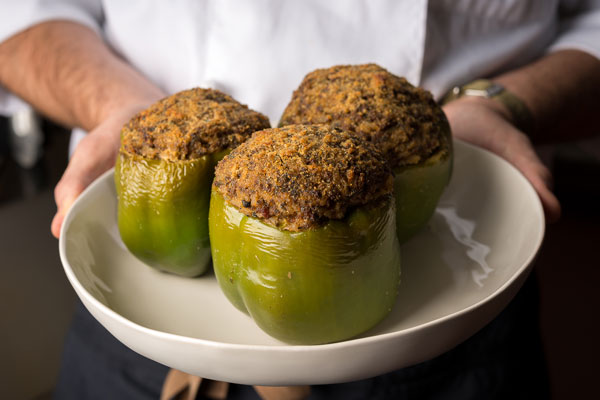 Servings
Serves 6
Ingredients
2 Tbsp canola oil
1 1/2 lbs ground beef
1 cup onions, diced
1/2 cup green bell peppers, diced
1/2 cup celery, diced
1 Tbsp garlic, minced
2 bunches green onions, sliced thin
2 whole bay leaves
3 Tbsp + 2 tsp Chef Paul Prudhomme's Meat Magic®
2 Tbsp Chef Paul Prudhomme's Magic Pepper Sauce®
1 1/2 cups Louisiana long grain rice
1/4 lbs chicken livers
1 1/2 Tbsp Worcestershire sauce
1 Tbsp seasoned bread crumbs
3 Tbsp unsalted butter, cubed into 6 pieces
1 cup parsley, finely chopped
3 cups beef stock, in all
6 cups chicken stock, in all
6 each medium to large green bell peppers, tops removed and peppers cleaned of white ribs and seeds. Bottoms may need to be trimmed to stand in a baking pan.
---
How To Prepare
Heat 1 cup of chicken stock in a small sauce pot and poach chicken livers until done, about 5 minutes. Puree in a food processor and set aside. Preheat oven to 350°F.

Heat oil in heavy bottom pot on medium-high heat. Add ground beef and cook, stirring occasionally, until meat is completely browned and cooked through, about 7 minutes. Remove meat from pan, drain and reserve 2 Tbsp of oil. Add reserved oil back to pot and add onions, bell pepper, celery, garlic, green onions, bay leaves and 1 Tbsp of Meat Magic®. Cook vegetables, stirring occasionally, until soft, about 5 -7 minutes. Add 1 cup beef stock and cook until most of the liquid is gone. Add 2 cups beef stock, reserved beef and 2 Tbsp Meat Magic® back to the pot. Cook until stock has evaporated. Add 3 cups chicken stock, reserved livers, rice, Worcestershire sauce, Magic Pepper Sauce® and remaining Meat Magic® to the pot. Stir well and heat to a boil, then cover pot and reduce heat to low. Cook for 25 minutes. Remove from heat and stir in parsley and 1 cup chicken stock. Let cool slightly, then stuff peppers evenly with the mixture. Place peppers upright in a deep baking dish and top each with bread crumbs and one cube of butter. Pour remaining chicken stock in bottom of baking dish and cover with lid or foil. Place in oven and bake for 30 minutes. Uncover and bake for additional 30-45 minutes, or until tops are browned and peppers are tender.